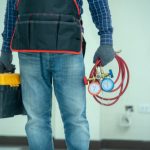 When it comes to your home's heating, ventilation, and air conditioning (HVAC) system, it is crucial to choose the right contractor for installations, repairs, and maintenance. Your HVAC system plays a vital role in maintaining your home's comfort and indoor air quality, and working with the wrong contractor can lead to costly mistakes, poor service, and long-term frustration. In this blog post, we will discuss the importance of choosing the right HVAC contractor and provide some key considerations to help you make an informed decision.
1. Quality Installations
One of the primary reasons for selecting the right HVAC contractor is to ensure high-quality installations. Proper installation is essential for the optimal performance and energy efficiency of your HVAC system. An experienced and knowledgeable contractor will have the expertise to properly size and install your system, ensuring that it functions reliably, effectively, and efficiently throughout its lifespan. On the other hand, a subpar installation can result in frequent breakdowns, reduced efficiency, and even premature system failure, leading to the need for costly repairs or replacements.
2. Reliable Repairs
When your HVAC system requires repairs, you want to be confident that the contractor you hire will get the job done right the first time. Choosing the right HVAC contractor ensures that you receive reliable repairs performed by trained professionals. They will accurately diagnose the problem, offer appropriate solutions, and use high-quality replacement parts, ensuring that your system is up and running efficiently in no time. By working with a reputable contractor, you can avoid unnecessary delays, additional defects, and unnecessary repair costs.
3. Regular Maintenance
Proper maintenance is key to extending the lifespan and efficiency of your HVAC system. Routine check-ups and cleaning can prevent minor issues from escalating into major problems. By selecting the right HVAC contractor, you benefit from regular maintenance visits performed by experienced technicians who know how to keep your system operating at peak performance. These professionals will inspect, clean, lubricate, and make any necessary adjustments to ensure that all components are working properly. This proactive approach helps prevent breakdowns, reduces the risk of costly repairs, and ensures that your system performs optimally throughout the year.
4. Energy Efficiency
Energy consumption and its associated costs are a significant concern for homeowners. Selecting the right HVAC contractor can help optimize your system's energy efficiency, leading to lower utility bills and reduced environmental impact. A knowledgeable contractor can guide you in choosing the right equipment that meets your specific needs while maximizing energy efficiency. They will also ensure that your system is installed and maintained in a way that minimizes energy waste, such as sealing ductwork, optimizing airflow, and utilizing programmable thermostats. By focusing on energy efficiency, you not only save money but also contribute to a greener future.
5. Professionalism and Accountability
Working with the right HVAC contractor extends beyond technical expertise. Professionalism and accountability are crucial attributes that ensure a positive customer experience. A reputable contractor will communicate clearly, arrive on time, respect your property, and provide comprehensive written estimates and contracts. They will also have appropriate licensing and insurance, giving you peace of mind in case of accidents or damage during the project. Choosing a contractor who prioritizes professionalism and accountability means that you can trust them to deliver high-quality work and stand behind their services.
Summary
Selecting the right HVAC contractor is crucial for the efficient and reliable operation of your system. Quality installations, reliable repairs, regular maintenance, energy efficiency, and professionalism are all important factors to consider when making your choice. Investing the time and effort in finding the right HVAC contractor will pay off in long-term comfort, reduced energy costs, and peace of mind knowing that your HVAC system is in capable hands. So, do your research, ask for recommendations, and make an informed decision to ensure the longevity and performance of your HVAC system.
Need a HVAC Contractor in Tampa, FL?
Kenny's Air Conditioning & Heating Services, Inc. is a family-owned and -operated HVAC contractor that services our community with legendary results. Our team strives to provide dependable and quality service by only using the best, most energy-efficient equipment. We are as concerned with your unit as you are and will always offer advice on how to increase its efficiency and reliability. From maintenance to installations, we have you covered. We are also the highest rated Trane comfort specialists in Tampa, which means we met Trane's stringent standards in service as well as customer satisfaction. Contact us today!
Categorised in: Hiring a Reliable HVAC Contractor, HVAC Contractor, HVAC Installation, HVAC Repairs, HVAC Service