HVAC Contractor in Tampa, FL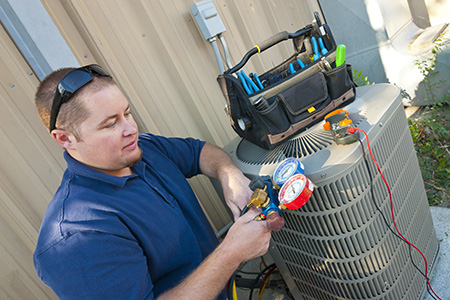 Kenny's Air Conditioning & Heating Services, Inc. is a family-owned and -operated HVAC contractor, proudly delivering high-caliber maintenance, repairs and installation services to customers throughout Tampa, FL.
As Tampa's top-rated Trane Comfort Specialists, we'll help you optimize your HVAC installations for quality and efficiency. Schedule a service appointment today!
Get Top-Rated Heating and Cooling Services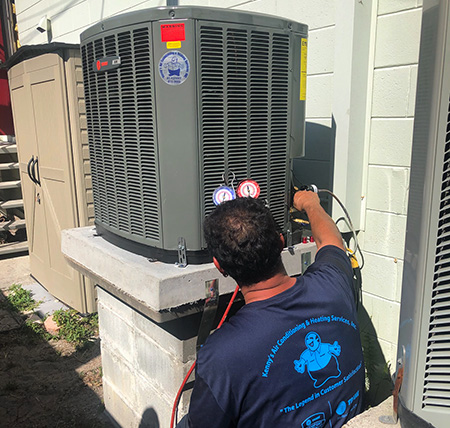 A properly working HVAC system is imperative for comfort—especially when it comes to the hot, muggy climate Florida is known for. If your air conditioning unit or furnace isn't working properly, you might not be getting the forced air you need in your home or business. Kenny's Air Conditioning & Heating Services, Inc. is here to help. As an experienced HVAC contractor in Tampa, FL and Trane Comfort Specialist, we're quick to spot problems with your AC and heating units, delivering tailored solutions to each of our customers. We get your units running right, by delivering the routine maintenance or urgent repairs they need.
We believe that efficiency is key. We strive to be an efficiency-oriented air conditioning contractor in Tampa, FL and our team works to provide dependable, quality service by only using the best, most energy-efficient equipment. We are as concerned with your unit as you are and will always offer advice on how to increase its efficiency and reliability. Whether that means retrofitting your old, outdated unit with a modern one or assessing ductwork to eliminate inefficiency, you can count on us for smart solutions. Contact us today and see why we're the cooling and heating contractor Tampa, FL home and business owners trust when they want top-rated service!
Our focus is on energy efficiency and we'll go out of our way to help you get the products and services to optimize your home's HVAC system.
Customer service is at the top of our priority list. Count on us to always be friendly, personable and professional during our visits.
We're a certified Trane Dealer and Comfort Specialist, bringing our customers some of the best heating and cooling products from an industry-leading brand name.
Let us provide you with a free estimate on all sales, service and installations, so you know exactly what you're getting upfront.
We're a licensed HVAC contractor (LIC. CAC1818982), backed by more than 30 years of hands-on professional experience.
Guaranteed HVAC Excellence

For best-in-class service that guarantees HVAC efficiency in your home, give us a call today! We'll make sure you get top-notch heating and cooling maintenance, service and installation.
Tampa, FL
Hillsborough County, FL
Pinellas County, FL
Polk County, FL
Pasco County, FL
Manatee County, FL