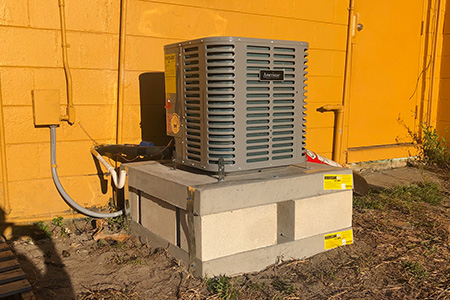 If your AC unit is getting on in years, it might be time to think about replacing it. Today's modern, energy-efficient units are a smart investment for the long-term and provide better control over your forced air, at a much lower cost.
Kenny's Air Conditioning & Heating Services, Inc. is ready to help you evaluate your options for a new HVAC installation, to make sure you're getting the right one for your home. And, as a certified Trane dealer in Tampa, FL, we rely on only the best from this industry-leading brand. We'll facilitate the entire air conditioning installation flawlessly, so you can enjoy quality forced air at an affordable cost.
AC Unit Installation


We're the ones to call when you want a quick and easy AC installation in Tampa, FL! With decades of experience installing new AC units, we get to work fast and make sure your new unit is properly connected and tested before we leave the job site. We're also more than happy to walk you through your new installation, so you understand the features and capabilities of your unit, as well as how to properly care for it.
Our emphasis on a quality air conditioning installation in Tampa or Hillsborough County, FL goes far beyond just the unit itself. We'll make sure all hookups are properly managed and your unit's function is properly calibrated. When you flip the switch for cool air, we promise the results will be seamless and noticeably comfortable!
Certified Trane Dealer
Kenny's Air Conditioning & Heating Services, Inc. is a Certified Trane Dealer and Comfort Specialist, uniquely qualifying us to provide customers with top-rated AC installations for any and all of Trane's AC units.
With expert knowledge of Trane's entire line, we'll be more than happy to introduce you to options that are right for your home or business, as well as your budget.