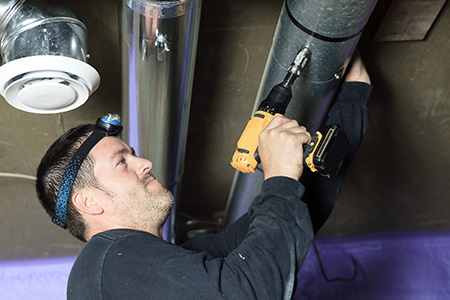 Ducts are responsible for delivering forced air throughout your living space. If they become damaged, dirty or develop leaks, you're not going to get the high level of forced air you need for optimal comfort. Likewise, if you're getting a new installation, the right ductwork is needed for proper air delivery.
Kenny's Air Conditioning & Heating Services, Inc. is your foremost authority on ductwork in any capacity. From basic repairs and sealing, to full installations and thorough cleaning, count on us to do it all for your home or business:
Installation: We're capable of providing you with complete ductwork installation in Tampa, FL. Whether it's replacing old, leaky ducts or installing brand-new ventilation, count on us for a complete solution.
Custom ductwork: Often, new HVAC installations require custom ductwork in Tampa, FL to ensure a smooth, seamless fit. We coordinate custom ductwork fabrication and installation to make sure every solution we provide is a tailored one.
Sealing: Got leaky ducts that are impacting your HVAC system's efficiency? Call upon us for ductwork sealing in Tampa, FL to close up any gaps that may be inadvertently costing you money on your monthly utility bills.
Cleaning: Dust, debris and a host of allergens can easily build up in your ductwork. To flush them out and restore cleanliness to your forced air, call us for air duct cleaning in Tampa, FL. You'll be amazed at what we can blow out of your vents!
Repairs: Damaged ductwork can lead to problems with comfort and efficiency. Our team is prepared to examine your ducts to pinpoint areas where repairs can be made. From minor repairs to sections, to major repairs across your entire system, we promise results.
Ductwork Experts
Call 813-875-3669 today to discuss your ductwork with one of the professionals at Kenny's Air Conditioning & Heating Services, Inc. We'll provide you with more information about our capabilities, so you can optimize your air delivery system.